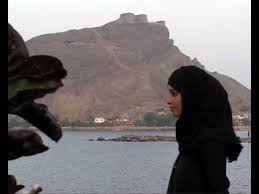 Suad distractedly looked out the window of her room. She had loud music playing in the background, but she wasn't paying attention to the songs' lyrics. She absent-mindedly wound a lock of her black hair around her finger and ran the other hand over her face. Suddenly, a memory made her bronze cheeks redden.
Today was her little sister's wedding day. Her soon-to-be husband had been sending her so many gifts from the Emirates over the past few months that both Suad's and her sister's room had wound up piled with them. The warm winds that swept through the city at that time of year had just started blowing. Suad wondered whether she was destined to find happiness in life.
She lived at home with her parents. Her father worked at Aden's water purification plant and her mother had retired recently after spending 25 years teaching at a high school in Crater. She was proud of her forward-thinking parents, who had instilled confidence in her and allowed her and her sister to have a lot of freedom while growing up.
The aroma of black henna wafted toward her ...Read more →